China Factory Polycarbonate Polarized Replacement Lenses Photochromic Lenses for Glasses
China Factory Polycarbonate Polarized Replacement Lenses Photochromic Lenses for Glasses
Photochromic lenses darken to a sunglasses tint when exposed to sunlight, or UV ultraviolet, and return to a clear state when indoors, away from UV light.
OEM/ODM

FUJIAN CHINA

10~30 days after receiving the deposit

500,000pcs/month
Products Description:
China Factory Polycarbonate Polarized Replacement Lenses Photochromic Lenses for Glasses

OEM/ODM

Character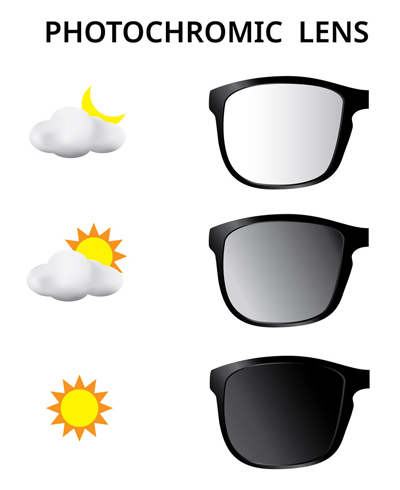 What Are Photochromatic Lenses?
Photochromatic lenses are the same thing as photochromic lenses:
lenses that darken automatically in UV light. "Photochromatic"
is simply a less common term for this type of glasses lens.
How Do Photochromic Lenses Work?
The light-sensitive molecules inside photochromic lenses shift their
structure when they're bathed in UV rays, allowing them to absorb
more light and give the lenses a darkened appearance. Once the UV
light goes away, the process reverses and the lenses become clear again.
When Should You Wear Photochromic Lenses?

Photochromic lenses are perfect for activities during which your environment might change. So, if you're
planning to grab lunch indoors and then go for a long bike ride, or hit up a museum after a walk in the park,
their versatility can come in handy.
They're also great for situations in which your hands will be occupied, preventing you from finding and
putting on a separate pair of sunglasses. If you're into kayaking, cycling, running, paddle boarding, or
any other sport that involves the continuous use of your hands, then photochromic lenses can be a big help.
Some people choose to wear photochromic lenses pretty much constantly. Their light-responsive nature means
that they'll adapt to your surroundings, ensuring that you always feel prepared for a suddenly sunny day.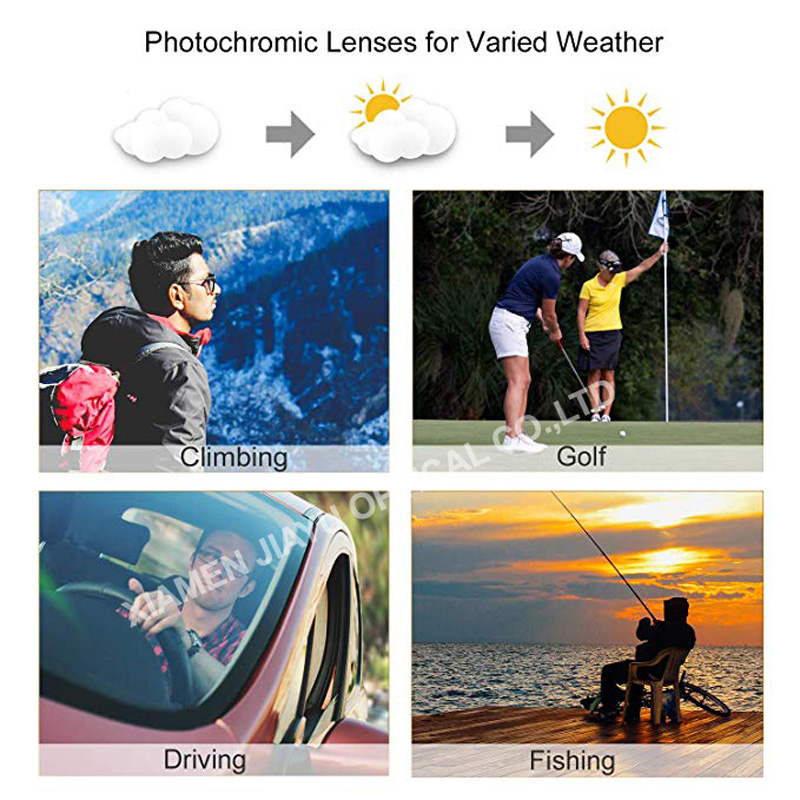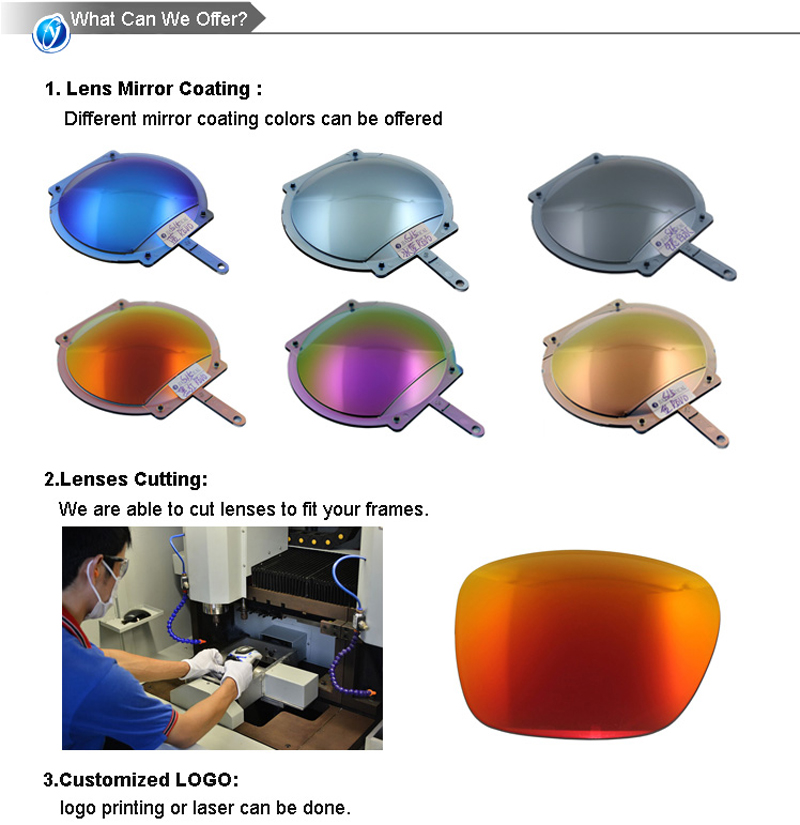 Company Profile: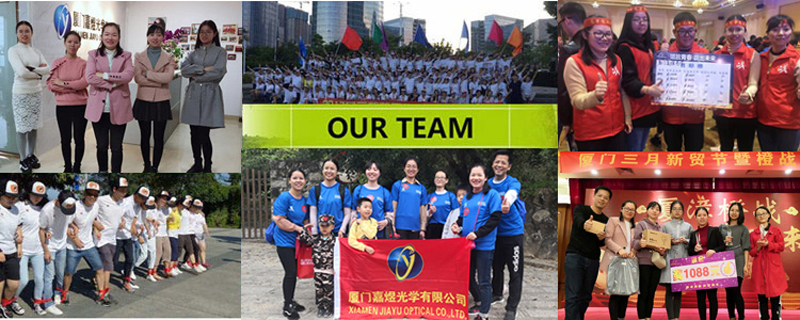 Xiamen Jiayu Optical Co., Ltd is a professional manufacturer and exporter of high quality of sunglasses lenses,sports
sunglasses,fashion sunglasses,optical frames and safety glasses.
We offer one-stop service and you can always find what you need in our product collections and theirrelevant accessories.
We are looking forward to cooperating with you. Please feel free to contact us.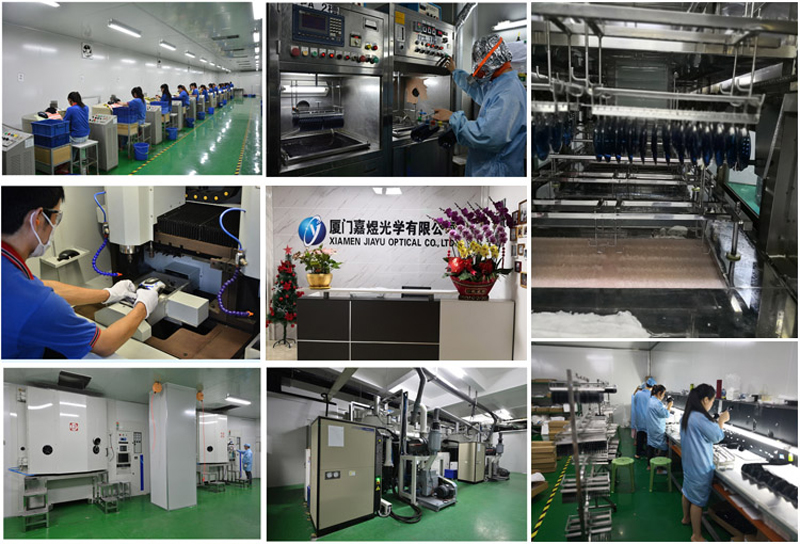 FAQ:
Q1: Are you a factory?
A: We are a 100% manufacturer specializing in Sunglasses lens business for more than 15 years.
Q2: Can you produce customize lenses?
A2:Yes, we will try our best to make different colors and coatings as needed, and different size, material.
Q3: Do you offer ODM/ OEM service?
A3:We accept ODM & OEM. Put your logo on products by laser or printing. We have our own design team,
and offer design service for cooperative partner. OEM is accepted and offer confidentiality agreement "business
secret contract" for your design safe.
Q4: How about the quality ?

A4: Each lens must pass three times inspection before shipment. There are many tests for them: Impact resistance,
Drop ball test, Scratch resistance, Water boiling test, Prismatic test...
Q5: Whow is your production ability?

A5: Around 60000 pairs per day.
Q6: What is the payment method?
A6: For mass order, T/T 50% deposit once confirming the order, balance before shipment.
Get the latest price? We'll respond as soon as possible(within 12 hours)